Crystal Tree homeowner frustrated Pekau won't address concerns
Orland Park Mayor Keith Pekau claims he and his wife and minions are the victim of anonymous personal attacks against him, but the truth is Pekau is the bully who viciously attacks people who question his failed leadership, point out his wife's public shaming of a young man's mother, and refuses to help taxpayers who he thinks do not support him. Just Ask Dr. Robert Peiss, who has asked the village to remove old dead tree rubbish but that Pekau has ignored
By Ray Hanania
When you hear about Orland Park's "Crystal Tree" community, you immediately think of a lush gated-community of multi-million dollar homes and a beautiful golf course.
But ask Dr. Robert Peiss about living in his 5,600 square foot home there (not including 2,900 sq ft of basement), and you'll hear concerns about bad service, and eyesores that Crystal Tree's Board of Directors and the Village of Orland Park have refused to cleanup.
Just yards from his home overlooking the 12th hole of Crystal Tree's golf course, the remnants of several huge, dead diseased trees, cut down in 2021, remain left to rot in an ugly pile. They're a nest for coyotes, Peiss complained, but has been given the runaround ever since.
He sent a letter April 13, 2022 asking the village for help: "There are at least 25 to 30 dead trees, spreading from one to multiple trees over the last two years. Only three large trees were removed, along with several smaller trees last year." Peiss has sent several additional letters pleading for help but the Village, as they do to anyone they disagree with, shut Peiss out and won't respond to him.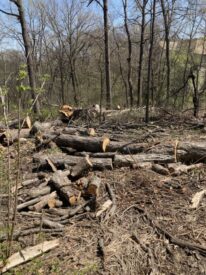 Some trees were cut down, he said, but two big ones have been left standing, plagued by Oak Wilt, a deadly tree disease. The rest are an ugly pile.
I was shocked by the ugly pile of trees. You spend millions on a home and pay expensive fees in a community of privilege only to look out your floor-to-ceiling dining windows to see a pile of tree garbage with nothing being done for months and years.
"There have been several diseased trees that were cut down from this area and they were left on the ground for years," Peiss said, pointing to a narrow area of forest between his home and the golf course.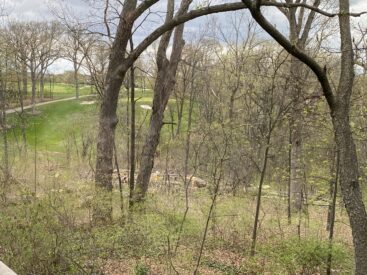 "They were diseased and dead. That's why they were cut down. Now, the latest trees cut down have been left on the grounds, a terrible eye sore that destroy what used to be a beautiful view of the golf course. And no one at the village or Crystal Tree will do anything about it."
Peiss suspects Mayor Keith Pekau, who runs the village like a tyrant, sided with Crystal Tree in this long running dispute. The Village Ordinance cited in his April 2022 letter requiring diseased trees to be removed "immediately" was changed to permit tree rubbish to remain "indefinitely."
Pekau amended the ordinance adding new language (Ordinance 5755): "dead trees or trees that have been cut may be permitted to remain in the natural area indefinitely after the date of their death or cutting" unless they are determined to be diseased."
"The Crystal Tree Country Club has been allowed to cut and leave diseased oak trees behind by my house in Crystal Tree. The Mayor of Orland Park and its Board of Trustees allowed this to occur because the mayor has a vested interest in CT being an honorary member and also holding political fundraisers at CT last year for his failed congressional run," Peiss said.
A lot of people with clout live in Crystal Tree. But Crystal Tree waves the hefty $25,000 initiation fee and the $700 monthly fee for officials, including for an apparently grateful Pekau.
Removing trees is expensive, more acute following the economic downturn caused by the COVID pandemic between 2019 and 2022. The costs can be in the tens of thousands of dollars to cut and remove one diseased tree.
Politics and money are always intertwined. Crystal Tree waves the thousands in fees for several bigshot politicians, who don't live in Crystal Tree, but who hold their congressional fundraisers, political parties and meetings with their cronies there to impress donors.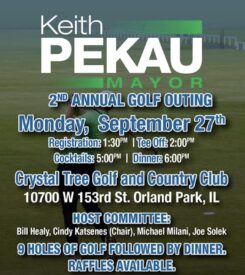 Pekau has used his free membership to the max, hosting his annual golf-outing fundraiser there every September. As golfers putt on the nearby green, they can see the pile of tree rubbish that taints Peiss's home.
Ironically, Pekau eliminated the village ethics ordinance which addressed such issues back in 2019. Instead of answering his critics, he attacks them and calls them names from his taxpayer funded Village Board bully pulpit. Pekau doesn't want to address the criticism, and uses personal attacks to try to deflect the public from his leadership failings.
Pekau's political "perquisites" or "perqs" should be revoked. Clearly, Pekau seems more interested in helping Crystal Tree than he is in helping the legitimate needs of a taxpayer like Dr. Robert Peiss.
I wonder if Pekau wasn't getting those benefits, that exceed his mayoral salary, if he would be so supportive of Crystal Tree. It's an ethics issue that clearly Pekau doesn't want to change.
You can view pictures of the mess and related documents about this on my website at Hanania.com.
(Ray Hanania is an award winning former Chicago City Hall reporter. A political analyst and CEO of Urban Strategies Group, Hanania's opinion columns on mainstream issues are published in the Southwest News Newspaper Group in the Des Plaines Valley News, Southwest News-Herald, The Regional News, The Reporter Newspapers. His Middle East columns are published in the Arab News. For more information on Ray Hanania visit www.Hanania.com or email him at [email protected].)
Read more about Orland Park Mayor Keith Pekau's vicious bullying from the taxpayer funded Village Board attacking anyone who challenges or criticizes his failed leaders. Click here.
Pekau published a video on Youtube attacking award winning columnist Ray Hanania that is filled with lies. Every time Hanania responds in a comment posting the true facts, Pekau deletes the response. That's an example of Pekau's dishonest government policies and elective office.
Subscribe to Ray's Columns

I have three eNewsletters that each focus on different topics and issues.
The first is on Mainstream American politics, local, national and international.
My second eNewsletter focuses on issues facing Arab Americans in Chicagoland, the Midwest and the country.
My third eNewsletter focuses exclusively on Orland Park, a suburban community located just Southwest of Chicago, the largest city between Chicago and Joliet.
You can subscribe to one or all by using the links below:
Mainstream American Politics Columns
CLICK HERE
Arab American focused columns
CLICK HERE
All Orland Park topics
CLICK HERE
Read my Archived eNewsletters
View Mainstream eNewsletter Archive
View Arab American eNewsletter Archive
View Orland Park eNewsletter Archive
======== ===========
A Message from Ray Hanania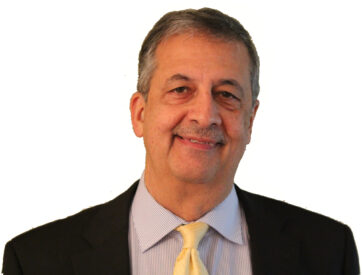 Subscribe to my free email eNewsletters and get my columns early before they are published.
I will also include links to my audio podcast "Ray Hanania on Politics" which expands the column topics on Chicagoland and Suburban politics.
You will also get details on where I am scheduled to speak publicly. (Always free to attend and no charge.)
Use the form below and enter your full name (or just your initials, or the community where you live), and add your email address. You will still receive an email requesting confirmation.
If for some reason the form doesn't work for you, send me your name and email and I will add it … [email protected]
A Big Thank You for supporting my writings. Your subscription means a lot to me.
RAY HANANIA