Recipe for a #NoCarbCrust #Pizza
By Ray Hanania
Pizza was originally made in the Mediterranean, but the pizza we eat in America is nothing like the Pizza you may associate with Italy.
Pizza as we know it was invented in America, from Greek, Italian and Arab recipes.
It's easy to make and perfect for people who want to lose weight on the No Carb Diet or Keto diet.
I know you are going to enjoy this #NoCarbCrust Pizza.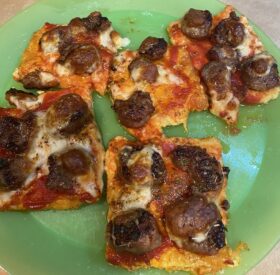 Here is my #Opa #NoCarbCrust #Pizza recipe with instructions.
Ingredients
1 — an 8 ounce brick of cheese (your choice) I used pepperJack cheese
2 two eggs
3 – Extra Virgin Olive Oil with Garlic
4 – 3 Italian sausages, cut into small pieces
5 – 10 slices of Mozzarella Cheese
6 – 6 slices of Swiss Cheese (or another preference)
7 – 1/2 of an 8 ounce can of Tomato Sauce (3.5 carbs per serving, total 6 cards)
8 – spices Oregano, etc.
Recipe
1 – Cover a large pizza pan (square with a 1.2 inch ridge) with the Extra Virgin Olive Oil
2 – In a separate pan, grate the cheese and mix the two eggs. (Grating the cheese, rather than using the small cheese slices) makes the mixture tighter, and more cohesive.
3 – Place 6 slices of Swiss cheese (or your alternative cheese flavor) on the pan … place 6 slices of Mozzarella over the spaces between the Swiss cheese
4 – Spread the grated cheese and eggs together on top of the slices of cheese.
5 – Set the oven to 375 degrees in an oven for 19 minutes …
6 – Once cooked, take the pan out of the oven and let it sit 10 to 20 minutes.
(If it looks like there is excess oil, lift it and pour the excess out. Cheese when cooked creates its own oil, too)
7 – While letting the #NoCarbCrust cool, fry the sausage in the olive oil until crispy and cooked
8 – Spread half an 8 ounce can of tomato sauce over the #NoCarbCrust, covering it. (1/2 a can of 8 ounce tomato sauce is about 6 to 7 carbs. But remember, you are not eating the whole pizza yourself so you are only eating about 2 – 3 carbs)
9 – Place the cooked sausage on top spreading it around
10 – break up the remaining slices of Mozzarella cheese and place on top of the sausage.
11 – Set the oven to 475 degrees for 15 minutes and cook
NOTE: Ovens may cook differently, so in the first step you want the #NoCarbCrust to be smooth and cohesive, almost like bread. That may mean cooking it more than 19 minutes. In the second step, you may have to cook longer than 15 minutes, but you want to make sure the Mozzarella slices you placed on the sausage turns a golden brown.
Once done, cut the #NoCarbCrust pizza into squares and enjoy
Watch the video on TikTok by clicking this link, on Youtube clicking this link, or using the widget below to watch it here.
(Ray Hanania is an award winning former Chicago City Hall reporter. A political analyst and CEO of Urban Strategies Group, Hanania's opinion columns on mainstream issues are published in the Southwest News Newspaper Group in the Des Plaines Valley News, Southwest News-Herald, The Regional News, The Reporter Newspapers. His Middle East columns are published in the Arab News. For more information on Ray Hanania visit www.Hanania.com or email him at

[email protected]

.)
Subscribe to Ray's Columns

I have three eNewsletters that each focus on different topics and issues.
The first is on Mainstream American politics, local, national and international.
My second eNewsletter focuses on issues facing Arab Americans in Chicagoland, the Midwest and the country.
My third eNewsletter focuses exclusively on Orland Park, a suburban community located just Southwest of Chicago, the largest city between Chicago and Joliet.
You can subscribe to one or all by using the links below:
Mainstream American Politics Columns
CLICK HERE
Arab American focused columns
CLICK HERE
All Orland Park topics
CLICK HERE
Read my Archived eNewsletters
View Mainstream eNewsletter Archive
View Arab American eNewsletter Archive
View Orland Park eNewsletter Archive
======== ===========
A Message from Ray Hanania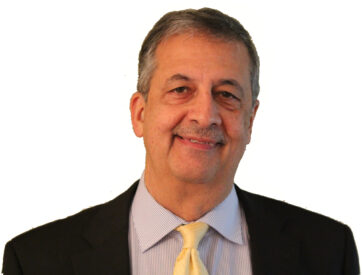 Subscribe to my free email eNewsletters and get my columns early before they are published.
I will also include links to my audio podcast "Ray Hanania on Politics" which expands the column topics on Chicagoland and Suburban politics.
You will also get details on where I am scheduled to speak publicly. (Always free to attend and no charge.)
Use the form below and enter your full name (or just your initials, or the community where you live), and add your email address. You will still receive an email requesting confirmation.
If for some reason the form doesn't work for you, send me your name and email and I will add it … [email protected]
A Big Thank You for supporting my writings. Your subscription means a lot to me.
RAY HANANIA