Two Guys on Politics podcast assesses Trump indictments with guest Attorney Burt Odelson
The Video Podcast Two Guys on Politics presents a discussion with attorneyBurton S. Odelson on the four indictments of former President Donald Trump. Odelson was one of the attorneys who was involved in the Nov. 2000 presidential election recount controversy involving the so-called hanging chads. Odelson offers and analysis and explanation of the four Trump indictments with podcast host former Congressman Bill Lipinski and columnist Ray Hanania
Two Guys on Politics, S2 E4 August 17, 2023 The Trump Indictments Podcast. View the video below
Two Guys on Politics hosts discuss the four indictments against former President Donald Trump with an election law specialist who was involved in the voter fraud allegations made during the Al Gore-George Bush Presidential election in November 2000.
Former Congressman Bill Lipinski and columnist Ray Hanania talk with attorney Burt Odelson on the substance and significance of each of the four indictments.
Burt Odelson is the founding partner of the law firm Odelson, Murphey, Frazier & McGrath, Ltd. which he started the firm in 1972. Odelson has since earned a reputation as a leading expert in governmental and election law. Burt attended Richard J. Daley College, the University of Illinois at Chicago, and received his Juris Doctorate from IIT Chicago-Kent Law School.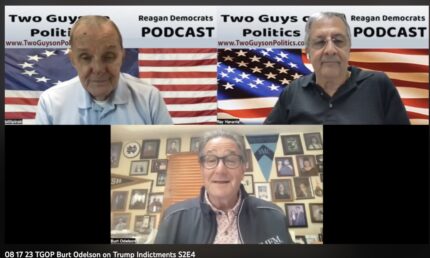 Synopsis of the four indictments according to the New York Times:
Indictment 1: Book Keeping Fraud
Mr. Trump has been charged with 34 felony counts of falsifying business records related to a series of Trump Organization checks he signed in 2017 to his personal lawyer and fixer, Michael Cohen. The payments were to reimburse Mr. Cohen for a hush money payoff he had made in October 2016 to a porn actress, Stormy Daniels, to cover up a potential sex scandal just before the election. But, according to the indictment, internal documents falsely recorded the checks as payments for legal work Mr. Cohen had purportedly performed in 2017 under a retainer that did not exist.
Indictment: March 2023
Scheduled trial: March 2024 prosecutors must show that a defendant intended to commit, aid or conceal another crime
Indictment 2: National Security Documents Charges:
Mr. Trump has been charged with 40 criminal counts related to accusations that he hoarded sensitive government records after leaving office and conspired to obstruct government efforts to retrieve them, including by defying a subpoena. Two of his employees, Walt Nauta and Carlos De Oliveira, face charges related to conspiring to obstruct the investigation and of making false statements. Indictment: June 2023, expanded July 2023 Scheduled trial: May 2024
Indictment 3: Jan. 6/Election subversion National
Mr. Trump has been charged with four criminal counts related to accusations that he sought to subvert American democracy by trying to overturn his 2020 election loss to Joseph R. Biden Jr. The indictment charges him with one count each of conspiring to defraud the government and to disenfranchise voters, and two counts related to corruptly obstructing an official proceeding — the Jan. 6, 2021, joint session of Congress to count and certify Mr. Biden's Electoral College victory. Indictment: August 2023 Scheduled trial: To be determined. Prosecutors have proposed January 2024.
Indictment 4: Fulton County Indictments / Georgia Election subversion
Mr. Trump is charged with 13 criminal counts related to accusations that he illegally sought to subvert his narrow loss to Mr. Biden in Georgia. The charges include racketeering, solicitation of violation of oath by a public officer, filing a false document, and conspiracies to commit impersonation of a public officer, make false statements, file false documents and commit forgery. Eighteen of Mr. Trump's associates and allies also face various charges.
Indictment: August 2023
Scheduled trial: Not yet set.
Charges are based on Georgia's Racketeer Influenced and Corrupt Organizations Act Statues RICO … broad accusations … … makes it easier to go after organized criminal enterprises and can be used against members of any group that engaged in a pattern of criminal activities with a common purpose.
View the video by clicking this link or use the widget below.
Get more information on Bill Lipinski's columns by visiting the website
http://www.AllAmericanEagles.com
Email Lipinski with questions and comments at [email protected]
Get more information on Ray Hanania's columns by visiting his website at http://www.Hanania.com
Email Ray Hanania at [email protected]
(Ray Hanania is an award winning former Chicago City Hall reporter. A political analyst and CEO of Urban Strategies Group, Hanania's opinion columns on mainstream issues are published in the Southwest News Newspaper Group in the Des Plaines Valley News, Southwest News-Herald, The Regional News, The Reporter Newspapers. His Middle East columns are published in the Arab News. For more information on Ray Hanania visit www.Hanania.com or email him at [email protected].)
Subscribe to Ray's Columns

I have three eNewsletters that each focus on different topics and issues.
The first is on Mainstream American politics, local, national and international.
My second eNewsletter focuses on issues facing Arab Americans in Chicagoland, the Midwest and the country.
My third eNewsletter focuses exclusively on Orland Park, a suburban community located just Southwest of Chicago, the largest city between Chicago and Joliet.
You can subscribe to one or all by using the links below:
Mainstream American Politics Columns
CLICK HERE
Arab American focused columns
CLICK HERE
All Orland Park topics
CLICK HERE
Read my Archived eNewsletters
View Mainstream eNewsletter Archive
View Arab American eNewsletter Archive
View Orland Park eNewsletter Archive
======== ===========
Click here to download the Podcast
Watch/listen to former Congressman Bill Lipinski and columnist Ray Hanania
rip into the headline stories the rest of the media ignores. Click to view on YouTube
A Message from Ray Hanania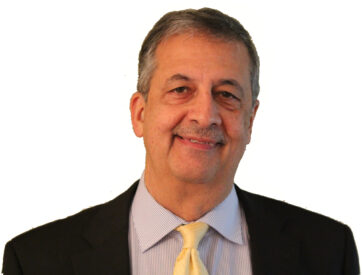 Subscribe to my free email eNewsletters and get my columns early before they are published.
I will also include links to my audio podcast "Ray Hanania on Politics" which expands the column topics on Chicagoland and Suburban politics.
You will also get details on where I am scheduled to speak publicly. (Always free to attend and no charge.)
Use the form below and enter your full name (or just your initials, or the community where you live), and add your email address. You will still receive an email requesting confirmation.
If for some reason the form doesn't work for you, send me your name and email and I will add it … [email protected]
A Big Thank You for supporting my writings. Your subscription means a lot to me.
RAY HANANIA