Two Guys on Politics discusses Ukraine war, and Pritzker's Safe T Act which promotes violence
Weekly Podcast with former Congress Bill Lipinski, political columnist and former Chicago City Hall reporter Ray Hanania, and producer Brian Broeking discusses the Ukraine war, and digs deep into the dangers of Illinois Gov. J.B. Pritzker's Safet-T Act which reduces punishments on accused criminals while exposing law abiding citizens to criminal dangers. Pritzker pushed the 800-page law through the Illinois General Assembly late in the night in January 2022 without discussion and set the start date for many of its most dangerous provisions until after the Nov. 8, 2022 elections hoping voters would not be aware of what he did
Two Guys on Politics, the podcast featuring former Congressman William O. Lipinski and political columnist and former Chicago City Hall reporter Ray Hanania, addresses the challenges facing America in the War in Ukraine, and digs deep into the failure of Illinois Governor J.B. Pritzker to protect law abiding citizens.
With help from controversy-plagued Cook County State's Attorney Kim Foxx, Pritzker crafted introduced the 2021 Illinois Safety, Accountability, Fairness and Equity-Today, or the Safe-T Act which significantly eases punishments on violent criminals and puts more responsibility on police to respect criminal rights.
The Safe-T Act fails to protect law abiding citizens and Foxx and others have said that the legislation, which was pushed through the Illinois General Assembly late int he evening in January 2022, was intended to serve people of "Black and Brown color" to offset "historic" unfairness in the criminal justice system.
The Safe-T Act in fact makes it easy for accused and charged criminals to skip the justice system after they have been arrested allowing them to return to the street on promises by them that they will appear in court.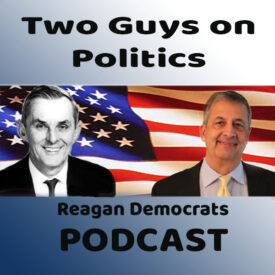 The Safe-T Act eliminates automatic cash bond requirements although Pritzker asserts the decision on who gets bond now rests with Cook County judges — Cook County judges have the most scandal and corruption of any court system in the country. But in truth, judges can only impose cash bond in certain cases allowing individuals charged with violent physical assault, murder and rape to go free pending trial.
The podcast, produced by Brien Broeking who often joins the discussion, is distributed by many popular podcast platforms including iTunes and Spotify and has a growing following base.
"Two Guys on Politics" Podcast presents a Reagan Democrat Perspectives from Chicagoland's Southwest Side and the Midwest.
Bill Lipinski served as Democratic Committeeman/Alderman of Chicago's 23rd Ward. Lipinski was elected to Congress in 1983 and served through 2005. He currently writes the "Right from the Center" opinion column at BillLipinski.com
Ray Hanania covered Chicago City Hall from 1976 through 1992 and writes mainstream opinion columns for The Southwest News Newspaper Group go to www.Hanania.com; and Middle East column and news at the Arab News Newspaper www.ArabNews.com
Brian Broeking is a young entrepreneur with experience and background in finance, and business strategies.
Our web address is www.TwoGuysonPolitics.com
Our Facebook page is: www.facebook.com/TwoGuysOnPolitics
(Ray Hanania is an award winning former Chicago City Hall reporter. A political analyst and CEO of Urban Strategies Group, Hanania's opinion columns on mainstream issues are published in the Southwest News Newspaper Group in the Des Plaines Valley News, Southwest News-Herald, The Regional News, The Reporter Newspapers. His Middle East columns are published in the Arab News. For more information on Ray Hanania visit www.Hanania.com or email him at [email protected].)
SUBSCRIBE BELOW
Two Guys on Politics with Bill Lipinski
Ray Hanania and Producer Brian Broeking
PS … Follow Ray Hanania on Twitter at Twitter.com/rayhanania. Fight back against #SocialMediaBigBrother