Two Guys on Politics analyze the Nov. 8 election results
Nov 8 Election: Republicans faltered, President Trump weakens, what's next for US S2 E43, 11-09-22
Two Guys on Politics: discuss the results of the November 8 General Election and the deflation of Republican election expectations, President Trump's weakened influence and what comes next for America S2 E43, 11-09-22 Taped on Wednesday Nov. 9, 2022
In a live broadcast on Facebook, former Congressman Bill Lipinski and former Chicago City Hall reporter Ray Hanania, and guest former congressman Dan Lipinski discuss the November 8 General Elections, and how to curb the extremist voices on both sides, Democrats and Republicans.
Former Congressmen Bill Lipinski and Dan Lipinski and columnist and former City Hall reporter Ray Hanania the results of the November 8 General Election and the deflation of Republican election expectations, President Trump's weakened influence and what comes next for America "Two Guys on Politics" Podcast presents a Reagan Democrat Perspectives from Chicagoland's Southwest Side and the Midwest.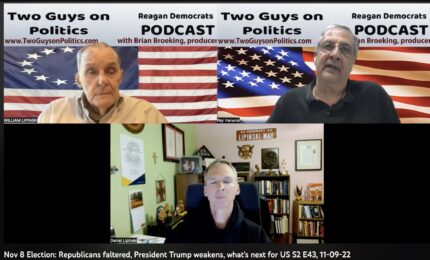 Watch the video on Youtube by clicking this link or use the widget below
For more information on Dan Lipinski's writings visit DanLipinski.com
Bill Lipinski served as Democratic Committeeman/Alderman of Chicago's 23rd Ward. Lipinski was elected to Congress in 1983 and served through 2005. He currently writes the "Right from the Center" opinion column at BillLipinski.com
Ray Hanania covered Chicago City Hall from 1976 through 1992 and writes mainstream opinion columns for The Southwest News Newspaper Group go to www.Hanania.com; and Middle East column and news at the Arab News Newspaper www.ArabNews.com Guest Dan Lipinski served in Congress from 2005 until 2021.
Brian Broeking is a young entrepreneur with experience and background in finance, and business strategies. Our web address is www.TwoGuysonPolitics.com
Our Facebook page is: https://www.facebook.com/TwoGuysOnPol…
Watch this episode on Facebook by clicking this link: https://fb.watch/gIbIJobuvh/
Download the Audio Podcast https://anchor.fm/twoguysonpolitics/e…